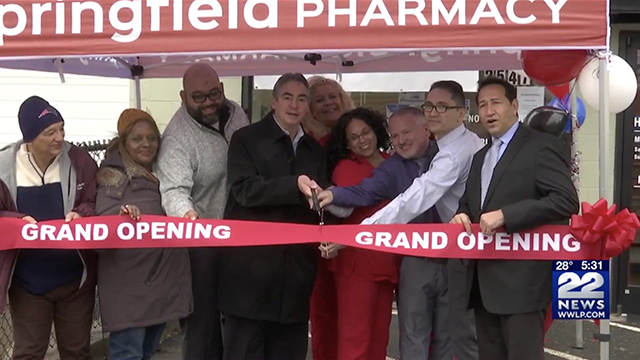 Nov 27, 2019
Springfield Pharmacy Celebrates Their Grand Opening


On Tuesday, November 12, Springfield Pharmacy was welcomed into Springfield's North End Community during their Grand Opening event.
Springfield Mayor Domenic Sarno officiated the ribbon cutting along with Carlos Gonzalez, president of the Massachusetts Latino Chamber of Commerce and many prominent members of the community.
When you come into a pharmacy you gotta be treated as a patient. We want to be part of the healthcare team, and not just looking to put medications in bottles and getting people out.
Located at the corner of Main Street and Bancroft Street, the pharmacy has been serving patients since June, and the residents already see the difference a family owned pharmacy makes in the community. Maria Perez, a resident of the North End said Springfield Pharmacy is not only a pharmacy that you go in and buy your products from, "... it's a family pharmacy." She continues talking about the "language barrier" in the neighborhood. "Having the staff that can speak the language..." she said, "...is fantastic."
If we take care of the community,
the community will take care of us.
At Springfield Pharmacy, the mission is to make people feel comfortable seeking medical care. And they are off to a great start.
Watch the 22 News Team coverage of the Grand Opening Event